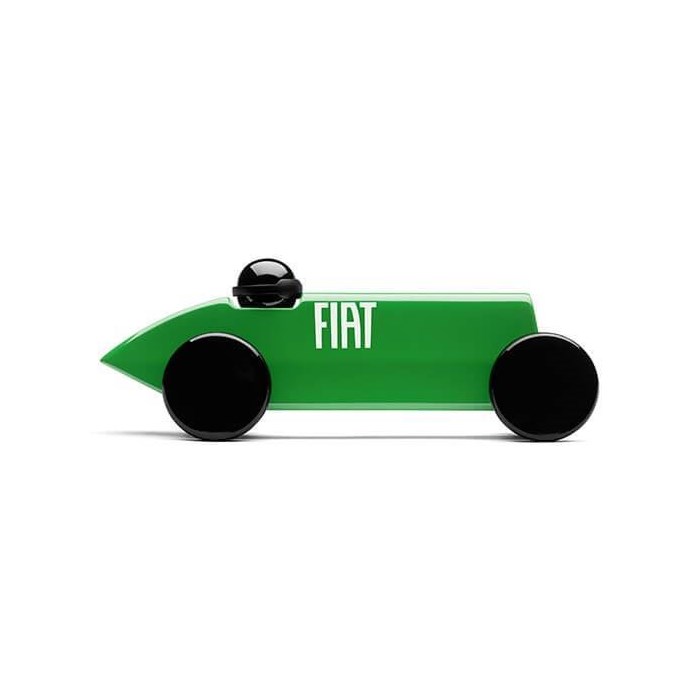 Jonas Forsberg

Jonas Forsberg has studied product design for five years at the Linnaeus University School of Design located on the grounds of the old Pukeberg Glassworks in Småland, Sweden. During this time some of his work caught the eye of Playsam's CEO Carl Zedig that would subsequently lead up to his inclusion among the company's line-up of designers. His first ever product was an interpretation of the famous 1924 world land speed record holder Mefistofele and was a direct result from the collaboration between the Fiat Automotive Company and Playsam. With a firm interest in everything motorized his designs are characterized by simple yet strong lines heavily influenced by a bygone era but always sporting a modern twist.
Design, creativity and simple elegance are the hallmarks of the lines signed toys from the soft curves and graceful profiles, Mephistopheles, car inspired by the famous racing car "Mefistofele 1924" redesigned in a modern style.
Product facts Mefistofele Fiat Green
Material: Wood
Color: White, Red, Green
Download high-resolution images of Mefistofele Fiat Green
Some of our high-resolution images require a login. If the current image does, please fill out the form and you will receive an e-mail with your access credentials.
Add a free personalized greeting card
If you want, you can easily add a personalized greeting card to your order. Click on any of the following covers to begin.
Car box

All cars in outmost giftbox.

Black friday

Classic black/silver.

Grey Standard Giftbox

Fine giftwrap for all events.

Back to Nature

Natural friendly paper with a rural touch.

Golden Gifts

Outmost Gift in golden wrap

Black standard giftbox

Black box with small leaflet.