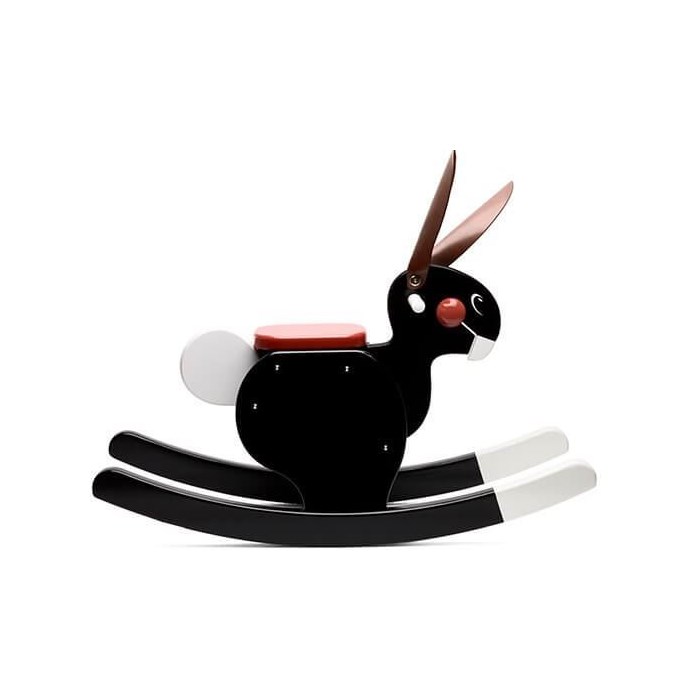 Rocking Rabbit Black
A playful rendition of the traditional rocking horse, this rocking rabbit is sure to win the race! Its creative design and glossy shine have earned this long-eared critter the Excellent Swedish Design seal of approval! Tested and approved according to EN71, ASTM, CPSIA
Björn Dahlström

Björn Dahlström is one of Sweden's premier furniture and industrial designers. His product designs are both aesthetically pleasing and functional, and are often distinguishable by their soft, fundamental forms. Those who have commissioned work from Dahlström include Playsam, Kasthall, Hackman/Iittala, Skeppshult, Fjällräven, Pukeburg and Atlas Copco. He has earned a series of awards and prizes both national and international, including Excellent Swedish Form (8 times), Furniture of the Year, Pleasant Home, Design Plus Prize, Frankfurt. He is also represented at the Röhsska Museum in Gothenburg and Victoria and the Albert Museum in London. Dahlström has worked as a professor at Konstfack and has taught at Beckmans School of Design.
A playful rendition of the traditional rocking horse, this rocking rabbit is sure to win the race! Its creative design and glossy shine have earned this long-eared critter the Excellent Swedish Design seal of approval!
Product facts Rocking Rabbit Black
Material: Wood
Color: White, Black, Red
Width: 420 mm
Height: 600 mm
Length: 790 mm
Weight: 6000 g
Download high-resolution images of Rocking Rabbit Black
Some of our high-resolution images require a login. If the current image does, please fill out the form and you will receive an e-mail with your access credentials.
Product reviews for Rocking Rabbit Black