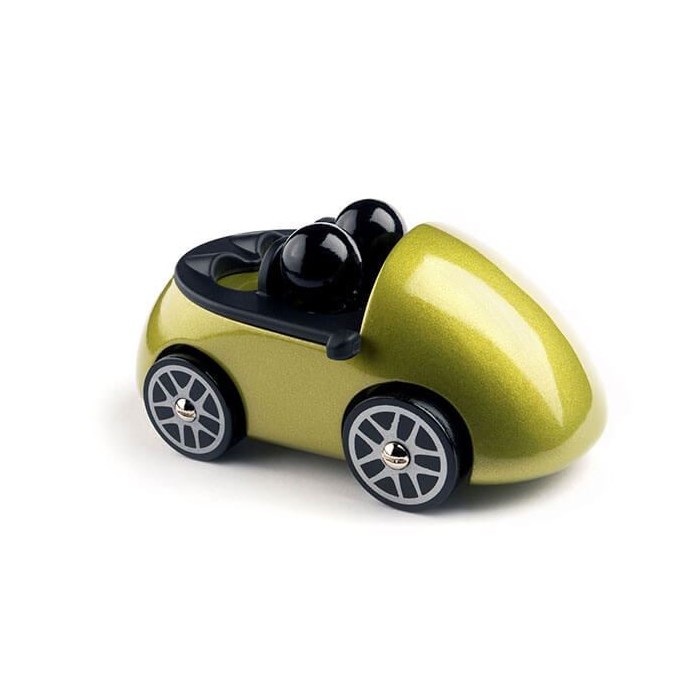 Xtreamliner Lime Yellow
Sporting bold colors such as lime-yellow and lightning blue, the Xtreamliner Cab is a playful rendition of a convertible automobile. A Playsam favorite, this smooth wooden toy is a magical gift for any occasion from birthdays to graduations. Tested and approved according to EN71, ASTM, CPSIA

Get a free Yoyo!
Answer our survey and get a free yoyo after your purchase.
In stock
We ship within 1 - 4 days
Ulf Hanses

Ulf Hanses is a playful functionalist with both depth and character. He has been with Playsam since its early stages and among other things, has designed Playsam's well-known Streamliner. The foundation for Hanses design work is toys with form, volume and proportion. Among those who have commissioned work from Hanses are Boda Nova, Ikea, Playsam and Handitech. Hanses has taken part in numerous design exhibitions both national and international and is represented at the Tokyo Toy Museum and Japan Toy Museum, among others. On numerous occasions, he has earned the distinction of Excellent Swedish Design Form.
The open-air version of Playsam's Streamliner car series, the Streamliner Cab calls for the open road. Feel the wind whip through your hair! This wooden toy is avaliable in the classic Playsam high-luster red and black colors, as well as three additional shiny shades.
Product facts Xtreamliner Lime Yellow
Material: Wood
Color: Blue, Black, Nature, Lime Yellow
Width: 70 mm
Height: 85 mm
Length: 135 mm
Weight: 350 g
Download high-resolution images of Xtreamliner Lime Yellow
Some of our high-resolution images require a login. If the current image does, please fill out the form and you will receive an e-mail with your access credentials.
Product reviews for Xtreamliner Lime Yellow
Add a free personalized greeting card
If you want, you can easily add a personalized greeting card to your order. Click on any of the following covers to begin.
Black friday

Classic black/silver.

Grey Standard Gift wrapping

Fine giftwrap for all events.

Car box

All cars in outmost giftbox.

Back to Nature

Natural friendly paper with a rural touch.

Black standard gift wrapping

Black box with small leaflet.